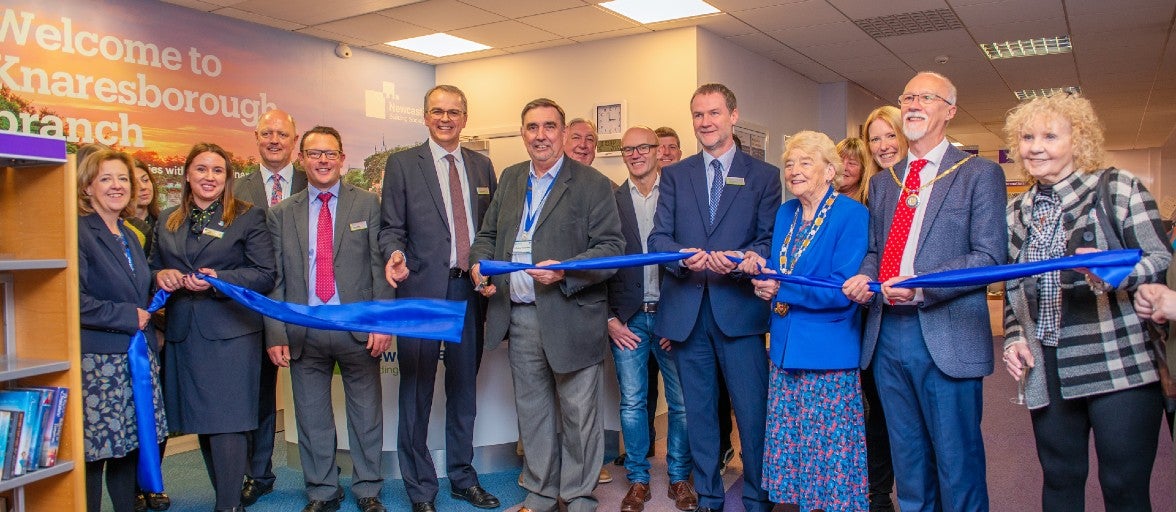 Download the press release here.
We have officially opened the doors to our new branch in Knaresborough, helping restore access to financial services in the North Yorkshire market town.
Since the last bank left Knaresborough in 2021, we have been working in partnership with North Yorkshire County Council and Harrogate Borough Council to open a community branch within the town's popular library.
Bucking the national trend of bank branch closures, we're pioneering the use of multi-purpose services on the high street as part of our ongoing commitment to maintain and enhance access to cash and face to face financial services. Our innovative community branch model has been successfully introduced in three other locations; Wooler in Northumberland, Hawes in North Yorkshire and Yarm in Stockton-on-Tees.
We also plan to install a OneBanx multi-bank transaction terminal in our Knaresborough community branch, improving access to cash for both personal and business users. The terminal to be installed in Knaresborough branch is being planned for the end of the year, and will provide access to all banks on the Open Banking network, meaning customers of all the major UK banks will be able to use the service to withdraw and deposit cash.
Andrew Haigh, chief executive officer, said: "We're facing into a cost of living crisis which will impact every household budget in the country, so I can't think of a time when it has been more important for people to have access to the face-to-face financial services they need. Our members tell us time and again how much they value our branch network, and whilst so many banks are closing branches, we remain absolutely committed to the high streets across our region.
"Our community branch model is one of the ways we're taking an innovative approach to delivering the services that people want. We continue to invest heavily in our digital capability, but we're allowing customers to choose how they want to use our services. That means taking a fresh look at the traditional branch model, working in partnership with local councils and other organisations to deliver a full branch service right in the heart of our communities.
"I'm delighted to formally open our new branch in Knaresborough and to become part of this vibrant community. The feedback from residents and other businesses in the town has been fantastic and we're looking forward to establishing a long and mutually beneficial presence in the town."