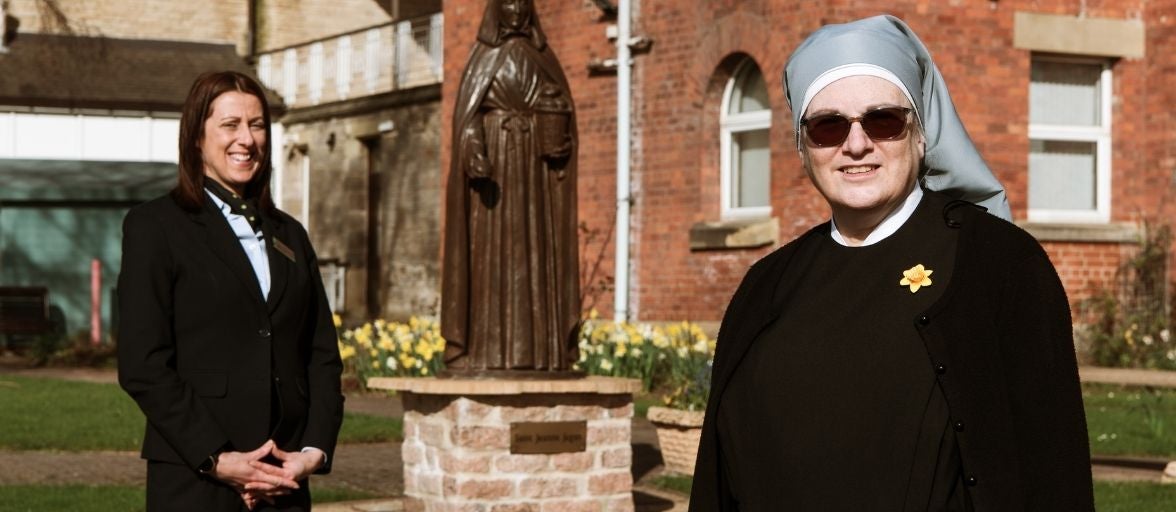 Residents at a Newcastle care home run by a long-established order of nuns are sleeping safely in their beds thanks to a four-figure grant from the region's biggest building society.
The Little Sisters of the Poor have taken delivery of five new low-profiling beds at the St Joseph's Care Home on Westmorland Road in Elswick which can be raised and lowered according to occupants' individual mobility needs.
The beds' adaptability makes it much easier for each resident to get into their bed, while their profiling action offers increased comfort as different sections can be inclined independently as best suits each individual.
To cover the cost of their purchase and to assist with the home's general running costs, Newcastle Building Society has provided a £3,000 grant to the Little Sisters of the Poor through the Newcastle Building Society Community Fund at the Community Foundation, which offers grants to charities and community groups located in or around the communities served by the Society's branch network.
The Little Sisters of the Poor address the growing need for affordable older person care, and run facilities in six major cities across England. Admission to their Homes is open to low-income elderly of at least 65 years of age, regardless of race, nationality or religion.
The order first came to Newcastle in 1866 and moved to site on which St Joseph's is located today two years later.
The home currently has more than 40 residents, including a number suffering from dementia, and has had to take on additional staff to help manage the extra measures required to keep residents as safe as possible over the last year.
Deirdre McCormack, Mother Superior at the Little Sisters of the Poor in Newcastle, says: "It's obviously been a challenging year and it's especially difficult to explain to our residents with dementia why they aren't able to see their families as they usually would, but we have been able to come up with ideas that have helped keep lines of communication open.
"It is no exaggeration to say that without the generosity and continued support we receive from our volunteers, supporters and benefactors, our work of caring for the elderly would be virtually impossible.
"As a registered charity, we depend heavily on donations to meet the increasing daily running costs of the Home, and the extra measures we've had to put in place and the additional staffing requirements that have also arisen have put pressure on our finances.
"The new beds can be taken down to just 22cm from the floor, which greatly reduces the risk of impact injury from any accidental falls, while the risk of injury is removed almost entirely when they are coupled with safety mats.
"Providing the right sort of equipment is essential to the service we provide, but with all fundraising activities and events being currently suspended, we were struggling to raise vital funds to purchase much needed low-profiling beds for our more frail residents until Newcastle Building Society kindly stepped in.
"Support from donors really does mean a great deal to the Little Sisters charity, especially as, in these difficult economic times, there are huge demands on people's generosity for many worthwhile causes."
The Newcastle Building Society donation forms part of the £1.5m community commitment made in 2020 by the Society to help the region manage and recover from the impact of Covid-19.
Jennifer Gilroy, who works at Newcastle Building Society's nearby West Denton branch, adds: "Supporting our communities is central to who we are as an organisation and we're very pleased to be able to support yet another important project in our home city."
Since its launch in 2016, Newcastle Building Society's Community Fund has also contributed over £2.1m in grants and partnerships to a wide variety of charities and projects across the region, including the Sir Bobby Robson Foundation and the Prince's Trust. The grants are so far estimated to have had a positive impact on more than 151,000 people.
In response to the coronavirus outbreak, the Society also made a £100,000 contribution to the Coronavirus Response and Recovery Fund set up by the Community Foundation Tyne & Wear and Northumberland.
The Newcastle Building Society Community Fund is run in association with the Community Foundation Tyne & Wear and Northumberland.
To support the work of the Little Sisters of the Poor in Newcastle, please visit www.littlesistersofthepoor.co.uk/donate-here/.