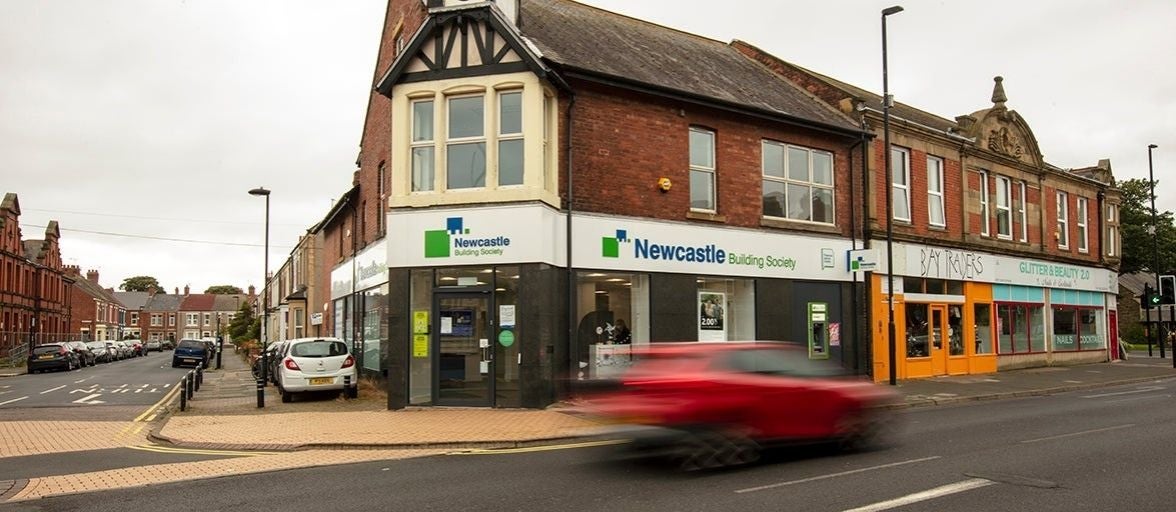 Seven out of ten Brits would commit to spending less money online in a bid to save their local high street, according to new research by Newcastle Building Society.
As online shopping and home delivery services boomed over the past 18 months, the high street faced growing uncertainty as restrictions required many businesses to close for long periods, and forced others to stop trading altogether.
But research by Newcastle Building Society found that while the health of the high street may be in question, public loyalty is not as 93 per cent of adults say they value their high street and one in ten say they would be 'lost' without its 'vital' services.
It's the same belief in the value of high streets which has committed Newcastle Building Society to continue its multi-million pound branch investment programme. Just weeks before the coronavirus outbreak in February 2020, Newcastle Building Society had bucked the trend of high street financial institutions by opening two new branches in rural towns in Northumberland and North Yorkshire.
After a Covid-enforced pause, the North East-based mutual has resumed its drive to grow access to face-to-face financial services across the North East, North Yorkshire and Cumbria.
Stuart Miller, Chief Customer Officer at Newcastle Building Society, and board member of the national High Streets Task Force, said: "Our high streets were facing huge pressures even before the pandemic, but Covid significantly accelerated and magnified all the changes that were already taking place.
"It's hugely encouraging that our research shows people are willing to change their habits if it means helping their high street. For an individual it might mean spending less online but for a business like ours it means looking for innovative ways to provide face-to-face financial services.
"There is still a strong demand for warm, friendly financial advice on the high street and that's why we've been investing heavily in our existing branch network and opening new branches, often in towns that have lost their last bank branch."
The building society's branch investment plans include the relocation of its West Denton branch in Newcastle upon Tyne to a bigger and more prominent space, as well as the refurbishment of its branch in Bishop Auckland, County Durham, which it took on from another bank when they left the town.
Another new branch is being planned within a redeveloped council-run library in Tynemouth, where the Society expects to replicate the success of its branch within Yarm Library in Stockton-on-Tees which opened in 2016.
The research found that adults rate the Post Office (43%), having access to face-to-face health care (42%) and in-person financial advice at either the bank or building society (34%) as the most valuable things on their local high street. When asked what their 'dream high street' would feature, younger people prioritised street food, vintage clothes shops and cafes, but older respondents wanted to see more 'traditional' high street offerings such as banking and health services.
Stuart continued: "It's fascinating to see what people want on their high street, clearly younger respondents are imagining the future high street as a leisure destination. Our high streets have adapted several times before and are quite capable of doing so again and in many ways the beauty of the high street is that it can flex and change and be many things to different people."
Stuart summarised: "The best solutions for our high streets will be locally-led and designed to meet the needs of the community. To be truly fit for the future, our high streets need data-led local leadership and to embrace new ideas around collaboration and use of space. Perhaps most of all high streets need the financial and emotional support of the public, and I'm confident that backing is already in place."
Research findings:
70% of Brits would 'commit' to spending less money online to save their local high street.
Adults rate the Post Office (43%), health care (42%) and bank/building societies (34%) as the most valuable things on their local high street.
13% of 16–24-year-olds say that the high street provides them with the only social contact they have in one day, which is 5% higher than those over 55 years old.
93% of Brits value the high street.
75% of Brits think the high street is in danger and 66% believe it needs to be reinvented to survive.
44% of Brits say that having access to face-to-face financial services is important in helping people stay on top of their finances.
The ultimate high street of the future for 16–24-year olds would include, in priority order:
Street food
Free parking
Second hand/vintage clothing stores
Café
Clothes store
The ultimate high street of the future for 55+ year olds would include, in priority order:
Post Office
Free parking
Banks and building societies
Health services i.e. doctors, chemist
Greengrocer
For more information on the work of the High Streets Task Force, go to www.highstreetstaskforce.org.uk
The research for Newcastle Building Society was carried out online by Opinion Matters throughout 16/07/2021 to 20/07/2021 amongst a panel resulting in 2,427 UK adults responding. All research conducted adheres to the MRS Codes of Conduct (2010) in the UK and ICC/ESOMAR World Research Guidelines. Opinion Matters is registered with the Information Commissioner's Office and is fully compliant with the Data Protection Act (1998).