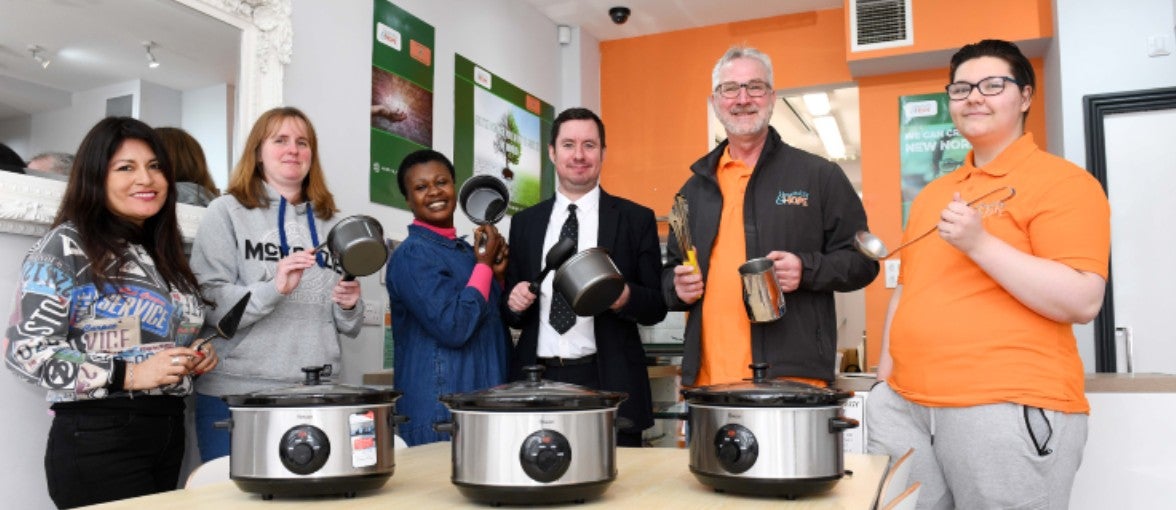 Download our press release here.
A South Tyneside charity is cooking up enthusiasm for healthy eating with the help of new funding from the Newcastle Building Society Community Fund at the Community Foundation.
Hospitality & Hope supports vulnerable individuals and families across its community to address a range of social, personal and financial difficulties that are impacting on their lives and works to find sustainable ways to improve their situations.
Based in South Shields, the organisation has used a £3,000 grant to set up an innovative new project which sees local families given the skills and experience to feed their family a healthy meal on a budget.
A recipe book packed with healthy meal ideas and a slow cooker is included as part of the project – and the charity is already seeing people who've never cooked before in their lives getting excited about the food they're now able to prepare.
The project funding is being provided through our Community Fund at the Community Foundation, which offers grants to charities and community groups located in or around the communities served by our branch network.
Brian Thomas, chief executive officer at Hospitality & Hope, says: "We try to have a positive impact on the lives and confidence of the families that we support, and promoting healthy eating is very much part of this.
"While we all like a takeaway meal sometimes, cooking using healthy ingredients isn't just better for you, but also tends to be much less expensive, which is an especially important consideration for everyone at the moment.
"This project has been designed to give people both the knowledge and the equipment they need to make healthy meals for themselves and their family and we're already seeing some great results."