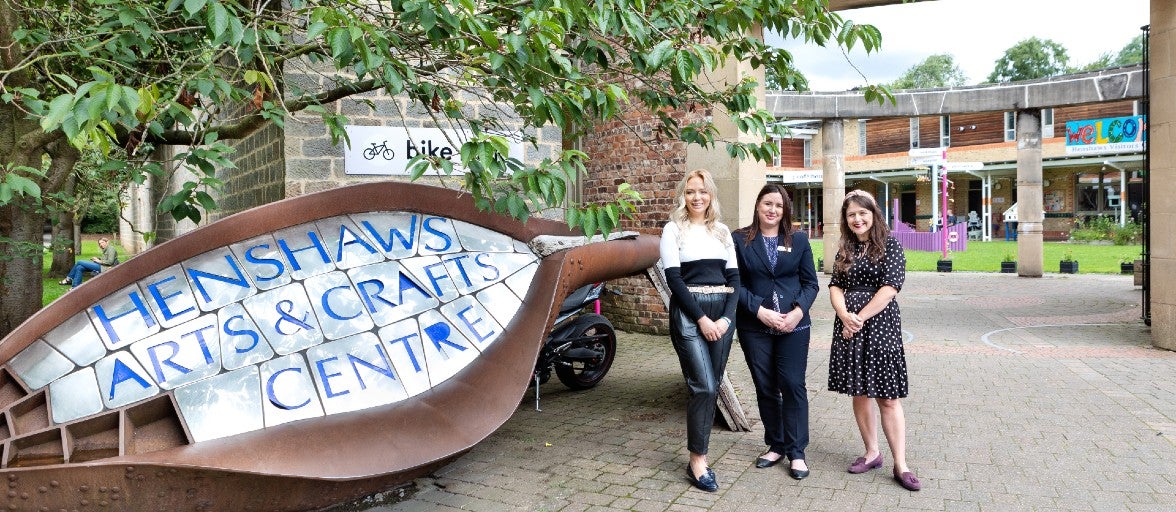 We are celebrating our first year in Knaresborough by supporting Henshaws Arts and Crafts Centre with a £3,000 grant from our Community Fund.
Based in Knaresborough, Henshaws works with people living with disabilities and visual impairments, offering them life-changing support so that they can achieve their ambitions.
The charity runs a variety of creative workshops at its Arts and Crafts Centre, such as painting, woodwork, and music, which allows people living with disabilities to come together and discover their talents using art.
Henshaws has used the £3,000 grant to buy eight iPads for its Art Makers. The iPads are equipped with immersive readers, which help with communication and benefit those with visual impairments. They also allow the workshop team to record activities, document progress and share content digitally.
Shaeron Caton-Rose, workshop leader at Henshaws, said: "For our Art Makers, having access to equipment such as the iPads has really helped them to develop their skills and grow their confidence.
"A great example of this is our Art Maker Jenna, in the workshop her eye for detail and her ability to trace and copy designs was extraordinary, but she struggled with the confidence to put pen to paper to make her own creations come to life. With an iPad in hand, Jenna's self-confidence grew day by day and her skills soared. She practiced drawing from her imagination first on to a screen and then translated this skill into drawing and illustrating on to paper and other materials.
"Everything we do at Henshaws has this focus, looking at what you can do, what you're capable of and making it happen. The support we've received from Newcastle Building Society that has enabled us to purchase the iPads will offer life changing opportunities for our Art Makers in terms of creativity, independence, and confidence building."
Our Knaresborough branch opened last summer in the town's library, after the last bank left in 2021, leaving Knaresborough without access to financial services.
Since then, we have also installed a OneBanx multi-bank kiosk in the branch, as part of a pilot project that aims to restore access to cash to UK towns and high streets. The kiosk enables small businesses and personal customers of any bank to deposit and withdraw cash from their current accounts. Users aren't required to be a customer of Newcastle Building Society to use this service, they can just drop into the branch and use the kiosk independently.
To celebrate our first year in Knaresborough, visit our stall on Market Day, Wednesday 16th August. We've partnered with several local businesses to offer a range of freebies and prize-giveaways, including a hamper of treats, branded flasks, and free coffee.
Download the press release (PDF, 446kB).
Image caption: L-R: Flora Simpson, Senior Fundraiser at Henshaws, Heather Pearman, our Knaresborough Branch Manager, and Gemma Young, Fundraising Development Manager at Henshaws.