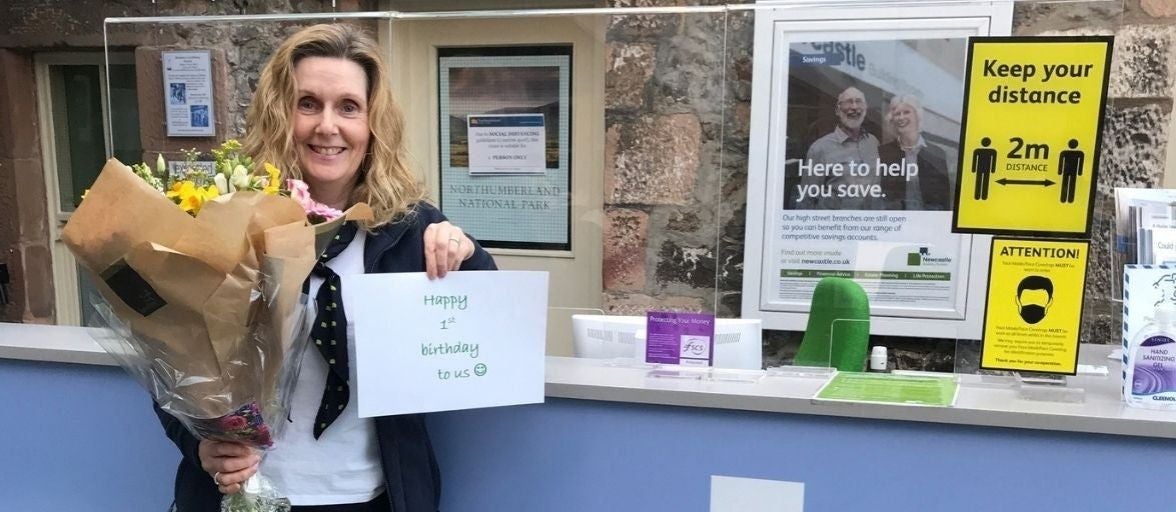 Newcastle Building Society is celebrating the first anniversary of its branch in Wooler, following what has been an incredible 12 months dominated by the Covid-19 pandemic.
The Society's community partnership branch opened in the Cheviot Centre in February 2020 after months of planning and collaboration with the Glendale Gateway Trust. The official launch party took place just weeks before the first national lockdown was announced.
As an essential service, the branch has remained open throughout the pandemic and colleagues have worked in partnership with residents and other businesses to help the community cope with the impact of coronavirus.
Siobhan Younger, Wooler Branch Manager at Newcastle Building Society, said: "It's unbelievable to consider what the community has been through since we opened the branch a year ago, but there is a real resilience in Wooler and it's heartening to see how people have adapted and responded.
"Although it's only been a year, I feel we're already part of the community fabric in Wooler and I'm excited about some of the plans for the town as we all recover from the impact of the pandemic."
The partnership between the Society and the Glendale Gateway Trust came after people in the town were left without banking services since 2018. The Trust, which is committed to creating improvements in the area, has continued to develop its plans for the town, despite many activities becoming restricted by the pandemic.
Tom Johnston, Chief Executive of the Glendale Gateway Trust, said: "People in rural areas are extraordinarily tough. We're already geographically isolated, so although lockdown after lockdown has been difficult, it's nothing we can't handle and people have done everything they can to help each other out."
The Trust's vision for Wooler took a further step forward in 2020 when the first residents moved into a newly refurbished former bank branch building on the high street. First acquired by the Trust in 2018, the two upper floors of the building were converted to residential accommodation following a significant investment.
Johnston continued, "As well as providing the type of face-to-face financial services which the town had been without for so long, Newcastle Building Society has been a breath of fresh air in Wooler. I'm confident that the town is in a good place for when the recovery gathers pace, and we'll continue to build on that special sense of community pride within Wooler."