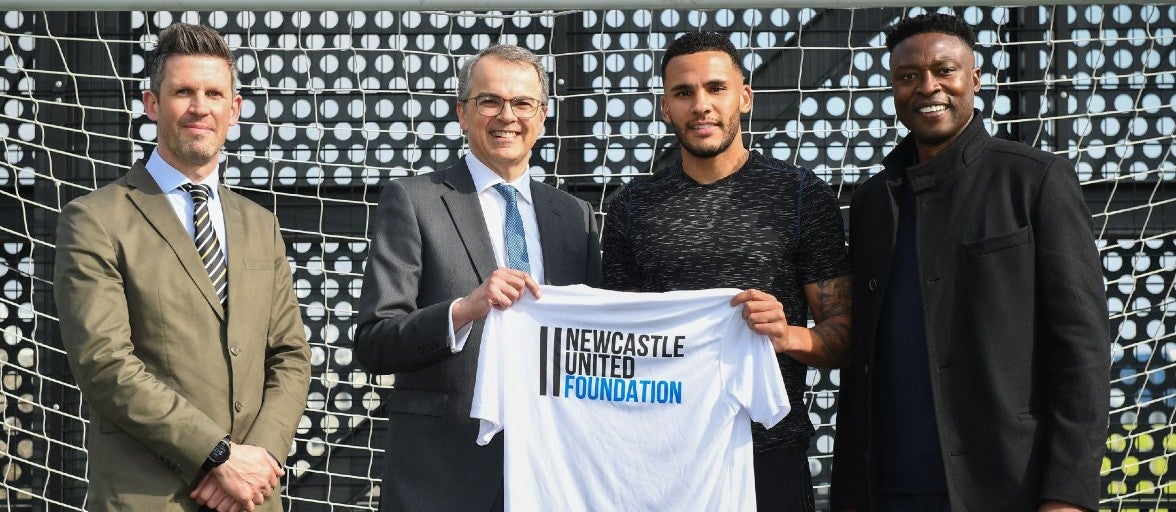 Newcastle United Foundation's state-of-the-art facility NUCASTLE, powered by Newcastle Building Society, is officially open.
Newcastle United Foundation Trustee Shola Ameobi officially opened the centre with the ribbon cutting on NUCASTLE's rooftop football pitch overlooking St James' Park.
Inspired by our shared passion for the people and potential of the North East, we have committed £1.1m to help Newcastle United Foundation deliver their valuable work in the community for the next six years.
Thousands of people have already benefitted from activities at NUCASTLE, helping communities to engage in sport, develop skills, achieve qualifications, build confidence, and progress into further training or employment.
Now open seven days a week, NUCASTLE combines community space with education and wellness facilities, including activity and state-of-the-art cycling studios, specialist STEM room, esports room, four-court sports hall, accessible changing areas, event and meeting spaces, offices and more.
Guests at the special launch event included Foundation patrons, trustees, partners, funders, and participants who all joined celebrations at the community hub alongside Newcastle United first team head coach Eddie Howe and club captain Jamaal Lascelles.
A panel discussion on social impact brought together a number of influential community figures at NUCASTLE during the official opening event, and guests also heard messages of support from Newcastle United Foundation Patron Gabby Logan, Newcastle United heroes Alan Shearer and Foundation Trustee Steve Harper.
Steve Beharall, Head of Newcastle United Foundation, said: "This is not just an historic day for Newcastle United Foundation, but an historic day for the city of Newcastle and the wider region.
"It has been a tremendous team effort to bring this community hub back to life for children, young people, families and older people who will find meaningful opportunities to change and improve their lives at NUCASTLE."
NUCASTLE offers more than 160 dance, cycle, fitness, and wellbeing classes every month with live and virtual instructors, as well as facility hire of its rooftop 4G football pitch, children's birthday parties and more.
And more than 160 Foundation staff will use the new facility as their home and a range of the charity's award-winning education, community and health and wellbeing programmes will be delivered there – including its innovative NU Futures programme inspiring a generation into education, training and career opportunities.
Click here for more information about our partnership with the Newcastle Foundation.