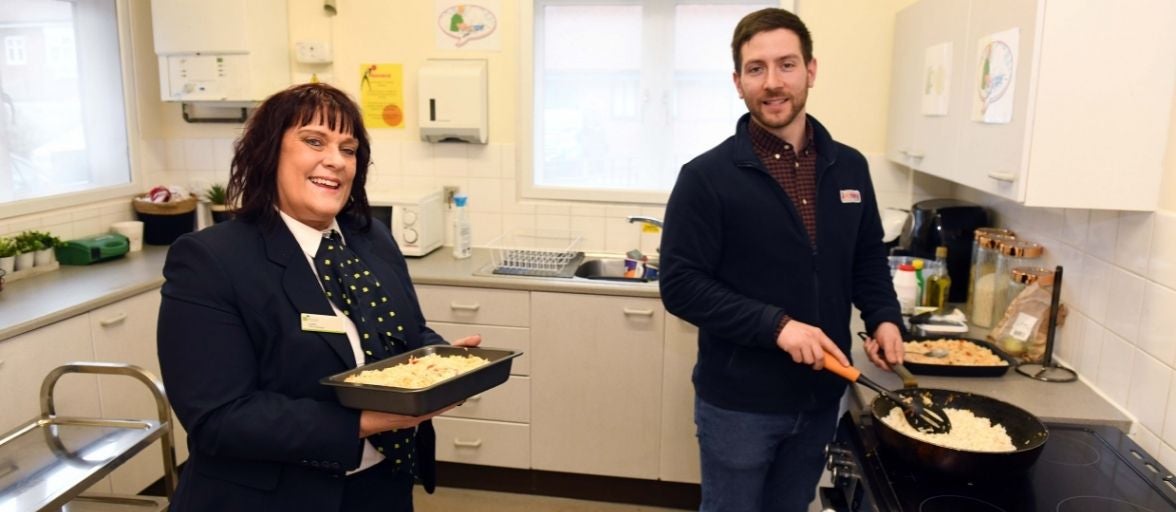 Twenty-six charities from across the north east and Cumbria are set for a welcome funding boost after Newcastle Building Society announced details of its latest round of community grants.
More than £73,000 is being distributed to charities in the region helping people tackle issues around food poverty, debt management and employability. The Society's long term support for cancer charities also continues with eight hospices and cancer care services set to receive new funding.
The grants, which range from £1,000 to £5,000, are being provided through the Newcastle Building Society Community Fund at The Community Foundation, which seeks to help communities served by the Society's branch network make positive changes through targeted support.
Recipients include Northumberland-based charity Bell View, who have received a grant of £3,000 to support a project to reduce food poverty and address food waste. Headliners, a Newcastle-based charity supporting children, young people and young adults in the area have also received £3,000 towards a digital skills employability project for young people transitioning out of the care system.
Andrew Haigh, chief executive officer at Newcastle Building Society, said: "Our local charities are still experiencing unparalleled demand for their services as our communities continue to manage the impacts of the pandemic. We've focused our support for some of the amazing charities throughout our region across the issues of food poverty, debt management and employability. This is to address what our communities need right now, while helping to build long term, sustainable, positive outcomes.
"We're also continuing our long-term support for hospices and cancer care services, as we know the increased demand for their support, coupled with ongoing difficulties around fundraising in Covid, has increased the pressure on care providers."
In 2020, the Society directed its community grant giving towards charities supporting those hardest hit by the pandemic. In 2021, through community grants alone the Society has given £184,000 to 59 charities and projects across North Yorkshire, Cumbria and the north east, in addition to ongoing support to The Prince's Trust, The Sir Bobby Robson Foundation and The Newcastle United Foundation.
One of the charities supported through the latest round of grants is Journey Enterprises, which received a grant of £4,908 to purchase two cooking work stations and an outdoor pizza oven. The new equipment will be used by people with learning disabilities to help prepare lunches to serve in the community kitchen at Kenton Day Centre in Newcastle.
Adam Bird, senior hub manager and community fundraising lead at Journey Enterprises, said: "We've seen ongoing demand for our services, even though our in-person services have had to close at times because of the pandemic. We really missed welcoming people to our hubs and working with our local communities face to face. It's a blessing that we're able to get back together in person as our users really value getting out and learning new skills with others. We are noticing that people are having to adapt and learn how to work together in person again.
"Thanks to the grant from Newcastle Building Society the equipment that we're going to be able to purchase will help us to provide more support for our service users. Our current set up in the kitchen is quite small, so those with sensory issues can feel overwhelmed. The new ovens will allow us to move our cookery classes into the wider activity space ensuring our clients have the right support in place to actively participate."
Since its launch in 2016, Newcastle Building Society's Community Fund has also contributed over £2.1m in grants and partnerships to a wide variety of charities and projects across the region, including the Sir Bobby Robson Foundation and the Prince's Trust. The grants are so far estimated to have had a positive impact on more than 151,000 people.
In response to the coronavirus outbreak, the Society was one of the first businesses to make a £100,000 contribution to the Coronavirus Response and Recovery Fund set up by the Community Foundation Tyne & Wear and Northumberland.
The Newcastle Building Society Community Fund is run in association with the Community Foundation Tyne & Wear and Northumberland. Find our more about our community grants and our partnership with the Community Foundation.