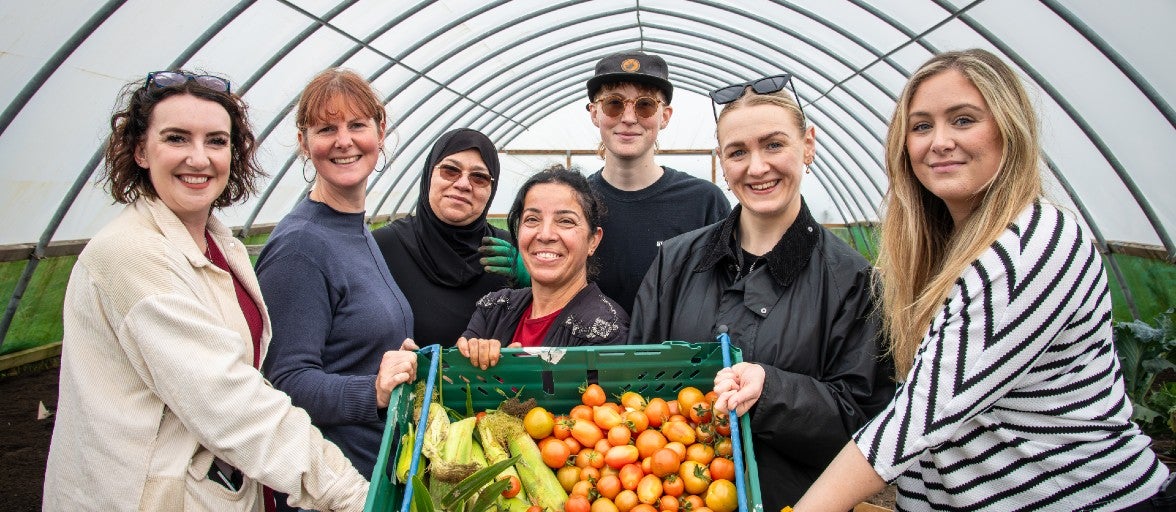 Newcastle-based charity, West End Women and Girls Centre, has used a £3,000 grant from the Newcastle Building Society Community Fund to reconnect women and girls with their farming heritage.
Set up more than 40 years ago, the Centre is the first and only open access, community-based women and girls centre in Newcastle.
More than 10,000 women and girls access its services every year, which include cookery and cycling groups, advice sessions, ESOL classes, and a domestic abuse recovery programme with a free creche.
At the end of 2021, West End Women and Girls Centre acquired a long-term lease on a small National Trust farm in rural Northumberland. The project was set up so that members could reconnect with their farming heritage and use the skills and experience that they gained in their different homelands.
Each week groups of service users are taken to the farm, where they work together to plant and grow crops, share their skills, and look after the animals.
The Centre has used their grant to cover the increasing transport costs of taking members to and from the farm, as well as to help with expansion of the farm's growing area.
Jill Heslop, farm development manager at West End Women and Girls, says: "Our members tell us just how important it is for them to be able to connect with outdoor green spaces, especially the many women and girls who have small scale farming in their background and heritage, and taking on the farm was our way of enabling them to do so.
"We've had women and girls aged from just five up to 83 years old visiting the farm, with everyone doing what they can to help out, and we often have several generations of the same families working side by side.
"There are obviously a lot of costs to cover in running this type of project and we're so thankful to Newcastle Building Society for helping us to cover our transport costs at a time when we're looking to give as many people as possible access to this fantastic facility."
Download the press release (PDF, 80kB).
Image caption: L-R: Kate Myers, our Community Assistant Apprentice, with Jill Heslop, Farm Development Manager at West End Women and Girls Centre; Iqbal, Shireen, and Jen, members of the charity; Alice Millican, our Social Media and Content Specialist; and Charlotte Norrie, our Internal Communications and Engagement Specialist.