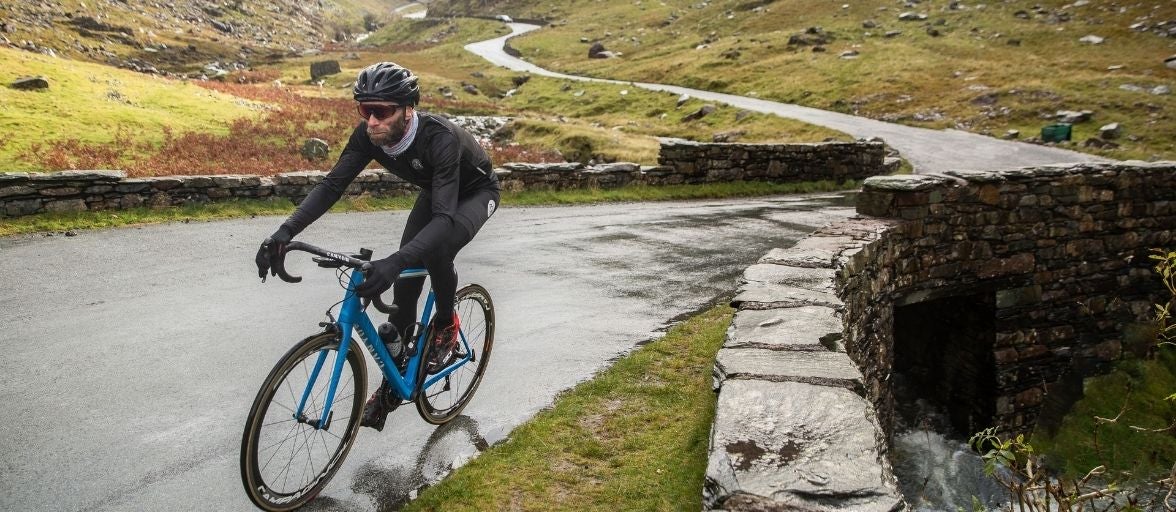 For many people, exercise in 2020 meant an occasional walk or an even more occasional Zoom workout. But a bike-mad dad from North Tyneside completed one of cycling's biggest endurance challenges last year, and has set his sights on an even bigger challenge in 2021.
By cycling the distance of 100 miles over 100 times last year, Dean Madden, 49, raised over £4,000 for the Great North Air Ambulance and the Newcastle Building Society Community Fund in the process – smashing his original target of £500.
Dean, who works in financial services for Newcastle Building Society, started his quest in memory of a friend who sadly died in 2020. Jack Earl, a cycling fanatic and photographer from Bedlington was well known on the north east riding scene and Dean decided to raise money for one of Jack's favourite charities.
Dean said: "This was a challenge I'd always wanted to do, but for a few years now I've missed out because it's difficult to find time to complete so many long cycling sessions. About a year ago I decided to give it another go and raise some money for the Great North Air Ambulance and the Newcastle Building Society Community Fund in Jack's memory. Receiving donations really helped me complete the challenge ahead of my target and push myself further. Getting support from so many people gave me a huge boost and I just knew that I was going to do it.
"Riding 100 miles 100 times in a year is one of cycling's biggest physical challenges so I knew it would be tough. In the end it took around 11 months to complete as I simply hadn't appreciated the mental challenge of doing something over such a long period – especially during a pandemic."
Covering a distance of 100 miles by bike takes around six hours, meaning Dean would often set off on a ride at 4am in order to get home to spend time with his young family.
Angela Doran, Challenge Events Officer at the Great North Air Ambulance, said: "It's amazing to hear that Dean raised over £2,000 for GNAAS. He should be so proud of completing his epic challenge of cycling 100 separate 100-mile rides in 11 months.
"Last year we saw the amount of people carrying out events and challenge fundraising fall by about one third, amounting to almost £50,000 per month loss on charity income, so we are very appreciative of those who have fundraised for us.
"The money Dean has raised will help us continue to remain operational during these uncertain times, and be there for those in need, so we just want to say thank you to him."
Dean also raised money for the Newcastle Building Society Community Fund, which is run in association with the Community Foundation Tyne & Wear and Northumberland. Since its launch in 2016, Newcastle Building Society's Community Fund has contributed over £2.1m in grants and partnerships to a wide variety of charities and projects across the region, including the Sir Bobby Robson Foundation and The Prince's Trust. The grants are so far estimated to have had a positive impact on more than 151,000 people.
Typically Dean's rides would take him around the north east, but with the help of a local cycling company, Dean managed to complete some of his challenge during a once-in-a-lifetime trip to the Alps.
Dean added: "I'm grateful to Band of Climbers because they did so much to encourage donations and even took me out to Switzerland during the summer to ride in Tour Des Stations, in the Swiss Alps. It's considered to be one of the hardest cycling events in the world and was incredibly hard work – but climbing 16,000 feet in the Alps in one day, alongside professional riders is a memory I will treasure for a long time."
With his 2020 challenge complete, Dean has vowed to ride another 10,000 in 2021 when lockdown ends, including a plan to complete the 800 mile trip from Lands' End to John O'Groats in just four days.
For more information on Great North Air Ambulance, visit www.greatnorthairambulance.co.uk and for details our community grants, click here.