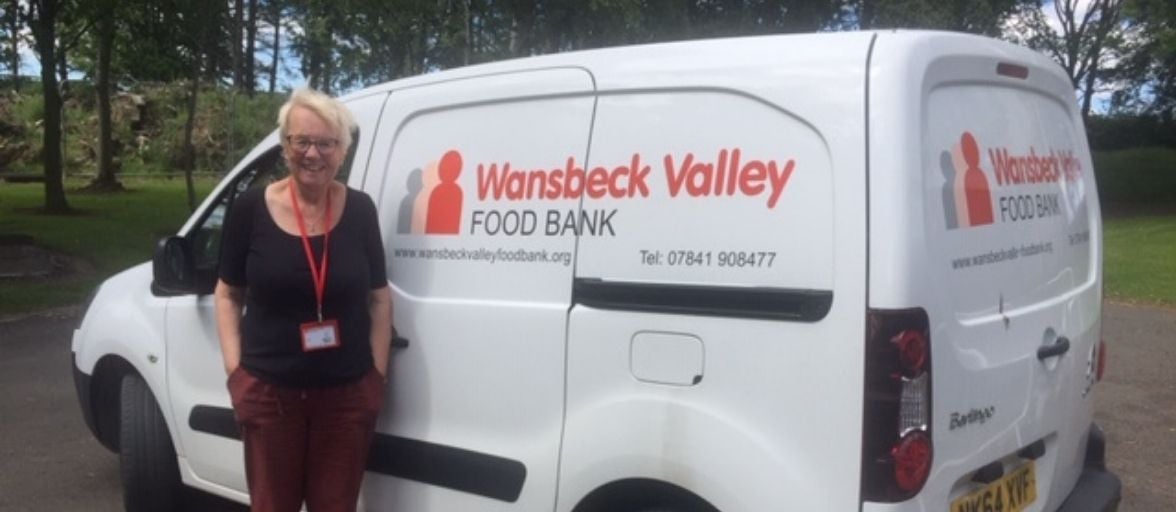 Volunteers with a south east Northumberland food bank are staying on the road with the help of continuing support from the North East's biggest building society.
Wansbeck Valley Food Bank provides food aid to people in need in the communities surrounding Ashington, Newbiggin, Pegswood, Lynemouth and Morpeth, with support provided via referrals from care professionals and other agencies across the area.
In order to reduce the local spread of the coronavirus, it had to temporarily close its shared premises in Morpeth, Ashington and Newbiggin, with teams of volunteers taking deliveries out to communities instead to ensure that none of its clients were missing out on the help that they needed.
The charity recently bought a second van to enable it to keep up its delivery schedule, with members of a 30-strong team of volunteers making client drop-offs and pick-ups from collections points in every part of its operating area each morning and afternoon.
In order to help meet the additional fuel and vehicle maintenance costs of providing the delivery service, as well as to help cover the rising cost of buying in the food it distributes, Wansbeck Valley Food Bank has now received a £4,000 grant from Newcastle Building Society.
It's the second time in the last year that the Society has backed the food bank's work, with a £3,000 grant given through its Ashington branch at the start of 2020 helping it to provide food support for those in need over a two-month period.
Headquartered in Morpeth, Wansbeck Valley Food Bank had its busiest ever year in 2020, with 28,382 parcels containing three days' worth of food, tea and coffee supplied to local families – a figure which is around 25 per cent greater than in the previous year – and it is expecting demand to continue to rise this year.
It generates stocks of basic dried and tinned foods through donations from various local churches, schools and community groups, as well as via supermarket collections, with balanced food parcels prepared with guidance from a nutritionist.
Peter Robertson, Trustee and Fundraising Co-ordinator at Wansbeck Valley Food Bank, says: "Demand has been growing steadily through the years and, as things stand, we can sadly only see this trend continuing.
"Some of our clients only need our help for a short time while temporary difficulties are resolved, while others come back to us on a more regular basis, and we look to work with other local agencies where we can to help address wider needs that are identified.
"Taking our service out on the road has ensured that we've been able to continue to reach individuals and families that we know need our support while also minimising the chances of spreading the virus through visits to our usual distribution points.
"The support we get from individuals and groups in our communities is always wonderful, but because we've not been able to organise the big events or fundraising activities that we usually run this year, we've had to dip into our reserves to meet the increasing cost of providing the food that we deliver, while the cost of running our delivery vehicles is obviously an extra burden.
"This makes the continuing backing that we get from Newcastle Building Society and other corporate supporters even more important than it already was and this latest Society grant will make a big difference to the support we can provide to the local people that need our help."

The grant has been provided through the Newcastle Building Society Community Fund at the Community Foundation, which offers funding to charities and community groups located in or around the communities served by the Society's branch network.

It is part of an overall £1.5m of community commitment made in 2020 by the Society to help the region manage and recover from the impact of Covid-19.

Stephen Burt, Manager at the Society's Station Road branch in Ashington, adds: "The support provided by the food bank team for families in extremely challenging situations has always been very important to our community, but in the present circumstances, it's more important than ever.
"Playing an active role in our communities is a core part of who we are and we're very proud to be a long-term supporter of such an important local organisation."

Since its launch in 2016, Newcastle Building Society's Community Fund has also contributed over £2.1m in grants and partnerships to a wide variety of charities and projects across the region, including the Sir Bobby Robson Foundation and The Princes Trust. The grants are so far estimated to have had a positive impact on more than 151,000 people.

In response to the coronavirus outbreak, the Society also made a £100,000 contribution to the Coronavirus Response and Recovery Fund set up by the Community Foundation Tyne & Wear and Northumberland.
The Newcastle Building Society Community Fund is run in association with the Community Foundation Tyne & Wear and Northumberland.